Dear Spiderlings
It is here. The 2nd episode of Twisted Tales. This time it's Bluebeard (not the pirate). In my twist, Bluebeard is a pervert who uses religion to destroy women and children…in my twist, he doesn't quite get away with it.
The Song
The voicings in Bluebeard are built on the …_ _ _ … morse code SOS signal. It features a rocking guitar solo by Michael Sheridan and multiple time signature changes. (I challenge you to figure it out – only because I still am)
Lead & female backing Vocals: Yunyu
Males Backing Vocals: Christo Alexander
Guitars: Michael Sheridan
Organ: Alexander Nettelbeck
Bass: Dave Howell
Drums: Ed Rodrigues
The Manga
Queenie Chan believes that Bluebeard is really Henry VIII. So she's created this awesomeness…a circular manga that never never ends!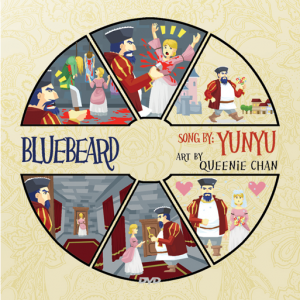 Buy Bluebeard