So minions, the veil is lifted. I've been hinting I've been hmming and hahing, wringing my hands and bursting to tell and now this. I now announce a collaboration with award winning writer Marianne De Pierres.  (see press release below)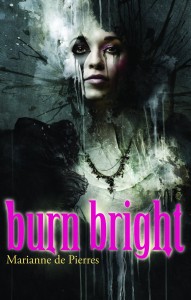 Singer-songwriter, Yunyu, and award-winning author, Marianne de Pierres, today announced an exciting collaboration.
De Pierres' first young adult fantasy novel entitled Burn Brightis due to be released by Random House in 2011 and will be accompanied by a dedicated single written and performed by Yunyu.
Yunyu, winner of JJJ's Unearthed, has achieved cult status amongst her followers. Neil Gaiman and Warren Ellis have mobilized their massive fan bases in support. Yunyu has also carved a substantial online niche, finding a following amongst lovers of horror, anime and manga.
De Pierres has published eight novels to date (including those under her pseudonym, Marianne Delacourt) and has had her work adapted for game and animation.
De Pierres says that the collaboration between Yunyu and herself was almost a natural progression. 'If you read my work, and listen to Yunyu's music, you'd have to see that it's a marriage made in Heaven – or Hades as the case may be. I'm really excited about this project, Yunyu has written a song that will simply electrify you; it's dark, exhilarating and addictive.'
Yunyu also looks forward to the collaboration saying, 'Marianne's stories live in the same universe as my songs and I'm excited to be writing for her surreally beautiful tale.'
The single, Angel Arias, will be available from itunes when the book is released in March 2011.
____
This wonderful project actually began 2-3 years ago. Marianne and I have been friends of years (blame awesome conventions like Supanova) , so when it was suggested that I do a dedicated soundtrack to Burn Bright, I was more than happy to jump on board.
Marianne de Pierres is the author of the acclaimed Parrish Plessis and Sentients of Orionscience fiction series. The Parrish Plessis series has been translated into eight languages and adapted into a roleplaying game.
Marianne is also an award winning crime author under the pseudonym Marianne Delacourt. Visit her websites at www.mariannedepierres.com and now www.burnbright.com.au
Now Now Now….all we need is the album details. I know I know. All due next year. The dark shall be lifted ever more.