Well Spiderlings.
I meant to post this last week – after the March 7th. But as you will soon see I got pretty busy…so the first of blog catchups

this is me at the end of last week (and this week actually). Splattered on the floor…slightly concussed with a happy kind of accomplishment and mostly very proud of my fellow creators, my little growing army of deviants, and …myself.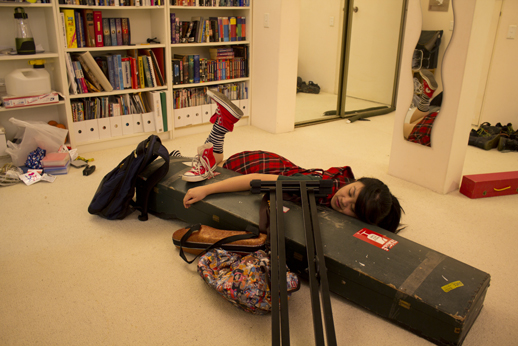 Twisted Tales – episode 1 – Dorothy launched last week amidst some very good things.
A nice little write up on spotlight summarises it all here.
Highlights include:
being feature artist of AIR – and a very kind write up to boot!
A nice mention by the dream king Neil Gaiman (only one of my favourite novelists!!) –
@neilhimself Really loved this video and song – j.mp/AlX5vY
A snapshot of NOW and beyond.
From the front lines…
Twisted Tales continues to grow…like some alien blob. Except it's not pink. I hate pink. Pink tastes funny and smells like rubber. So…our latest addition to the not so little project include the boys from Coolshite on the Tube.who are going to build and build on the tale that is Twisted Tales with a little extra something only they can do….and you're going to hear about that soon.!
This is the first good thing.
More about the other good thing soon…with Lucid Edge.
Twisted Tales Theatre Show
Another piece of news is that my manager, Lee and I have been over at Adelaide all last week for APAM – also known as Australia Performing Arts Market.  We're there to develop an in Theatre part of Twisted Tales. We figured that the universe was built, it's been hard going…why not make it more challenging? Why not grow it some more? Because it is there I suppose?
Times like that where you think…there's masochists…then there's us and George Mallory (Mr Everest)
Pitching a big universe like Twisted Tales to a bunch of international festival directors is hard work on the cranium. Especially when you've only got 2 minutes to talk about it. A couple of booked lunches and drinks with delegates post pitch tells me…perhaps we did ok and all being equal, overseas travel is finally going to be on the cards. We shall see…the Theatre aspect of Twisted Tales gets a start now but won't see completion until at least end of next year.
So it was 4 days of rather intense hard work, finishing another grant application to boot, doing last minute additions to the brand spanking new site you see here..made possible by the code God Karsen from Kwikweb, and doing all the other crazy stuff that comes with the territory of releasing a new song into the market…which really translates to us getting less sleep than Tyler Durden. (No I haven't started making slogans, started fight clubs or gone around making soap out of human fats…yet)
In short, you can probably surmise that Twisted Tales was a music album once upon a time but is fast growing to become quite something else by now. Whatever it is…it's a whole lot bigger than just little old me now.
Then to top it all off… an awesome awesome surprise launch party organised for me by my manager/producer Lee and his very lovely family. Which is just the perfect sendoff to the end of a crazy week. Chryss – my publicist who I've enjoyed working with immensely even flew in  from Byron Bay! So there we were…the week ending with sushi, bandmates, co-creators, co-creators to be again , vocal coach, producer, manager, publicist, and even Sebestian Chase from MGM (my head exploded) celebrating the beginning of an unveil of a mega uber mammoth project which is about to get bigger.
So hang tight spiderlings…this is your royal madness reporting from the front lines, flying by the seat of her pants and hoping to land on her feet.
next up: a post about how I met the lovely Queenie Chan which started this insanity and the amazing race of interviews